The New STILL RX 20 Electric Forklift: Power, Performance, Precision, Compactness and Agility… It's Electrifying!
The new STILL RX 20 (view the short video below) delivers more power, performance, precision, compactness and agility than any other forklift in it's class. The latest generation of STILL's top-selling electric forklift truck is the best RX 20 that STILL have ever developed.
The new RX 20 series consists of a total of 13 truck types and is designed for loads of 1.4 to 2 t with a load centre of gravity of 500 mm. The smart all-round trucks are ideally suited for combined indoor and outdoor use and quick and safe transportation of goods with a maximum driving speed of 20 km/h, even over longer distances. The RX 20 also proves its capabilities when stacking pallets at heights of up to 7,900 mm.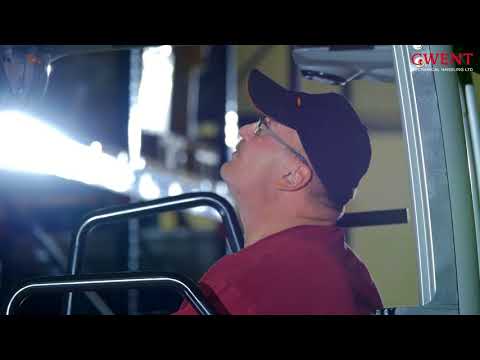 New Still RX 20 Electric Forklift
The new RX 20 has been nominated for the International Forklift Truck of the year award 2018.
Take a look at it in action here.
The RX 20 – ensures you get things done!
The best handling performance in its class.
Impressive agility and precise manoeuvrability.
The highest range with a single battery charge.
Perfect all-round visibility for optimal safety at work.
Incredibly compact trucks (RX20-14C & RX20-16C)
Spacious driver's cab with smart controls.
The efficient powerhouse was designed for a variety of applications and is the first choice wherever high handling performance and availability are key in tough 2 or 3- shift operations. Due to the extremely compact design, it is of particular interest for applications where small working aisle widths are important due to narrow travel paths. Plus, its excellent visibility and comfortable operator's cabin allow you to work to the utmost level of precision. And all this with plenty of stamina, thanks to an unparalleled range of battery variants.
The highest handling performance in its class:
The new RX 20 impresses with outstanding lifting speeds and can accelerate up to 20 km/h. Due to different operating programs, it can achieve both optimum performance and unrivalled efficiency values, while the Performance-Boost allows even the heaviest loads to be handled in sprint mode. It's no wonder that the RX 20 can achieve the highest handling performance in its class, with the lowest energy consumption per tonne handled.
Depending on the rated capacity, the agile truck can drive on ramp slopes or inclined drives with a gradient of up to 20% at maximum load. To ensure that the truck always provides the performance demanded by the respective application, the customer can switch between optimal energy efficiency or high handling performance at the press of a button. Speed, acceleration, as well as electric braking when changing drive direction can be adjusted in each driving program.
Powerful 48v battery boasting the largest range per charge and superfast charging:
The new RX 20 boasts the largest range per battery charge and can also utilise a wide range of battery variants, boasting the fastest lateral battery change process in its class. Also, if you want to remove the term "battery change" from your working vocabulary entirely, the STILL Li-Ion is exactly the availability boost you need. Rapid interim charging is sufficient to keep the RX 20 going around the clock – on just a single battery.
Like in predecessor models, a key success factor for the RX 20 is the quick and easy lateral battery exchange using a pallet truck. An eye-catcher with a modern and streamlined design: STILL has placed a lot of emphasis on high-quality materials and a sturdy design. On the exterior, plastic parts have mainly been replaced by steel.
Impressive agility and precise manoeuvrability:
To impress in the warehouse, you need to be able to perform in even the narrowest spaces – no problem for the new RX 20. Its compact truck dimensions and precise control system ensure outstanding manoeuvrability. With the new combination axle for four- wheel-drive trucks, it achieves the smallest turning radius in its class.
Perfect all-round visibility for exceptional safety at work:
Safety comes first and this couldn't be more true for the new RX 20. Therefore, it is equipped with a particularly slim mast and extra large windows that allow a clear view on all sides and upwards. This does not only look good but helps to identify possible hazards faster than ever before. All safety and performance functions can be conveniently monitored with an intelligent display and control unit (STILL Easy Control).
Performance Precision:
STILL EASY Control, a newly developed display and control unit acts as a safety and communication centre. The fully graphical colour display with automatic brightness control not only provides information to the driver about all truck parameters, such as driving speed, tilt angle, battery status, energy consumption etc but thanks to the menu-guided control and favourites buttons, it also enables the driver to directly access driving and lift programs, the battery remaining run time display and many other functions. A drive direction indicator on the display increases handling performance and safety.
Numerous assistance functions, including a display of the stability status on the screen, as well as a speed reduction when the fork carriage is raised not only improve safety but also contribute to precise load handling, which further increases the handling performance.
Familiar assistant functions such as Curve Speed Control, which automatically adjusts the curve speed to the steering angle, are also used in the RX 20.
Spacious driver's cab:
The best way to work: the operator's cabin of the new RX 20 offers an unparalleled level of comfort. This starts with the effortless access via the large step. The height of the foot-well is lowered by approximately 60 mm and the cabin height in the interior has been increased by 16 mm and provides plenty of headroom even for tall drivers. A large handle, a non-skid rubber mat and a nonslip step edge increase safety when accessing and exiting the cab. The foot-well is very generous and STILL has also paid attention to providing a lot of free space around the pedals.
Service technicians are also pleased about the increased foot-well. For maintenance, they only have to loosen one metal sheet, which already gives them complete access to the parts to be serviced.
Considerable improvements have also been made to the noise level of the trucks. In particular, it was possible to significantly reduce the noise of the lifting and steering pumps.