Aisle Master Very Narrow Aisle articulated forklifts are versatile lift trucks that do it all. These forklifts can work in very narrow aisles to enable a dramatic reduction of working aisle widths in the warehouse. This can increase the amount of storage space available by up to 50%.
Aisle Master Forklifts are designed to work both inside and outdoors. Their unique design is capable of doing the work both reach and counterbalance forklifts – quite simply you can replace two forklifts with just one Aisle Master.
Electric and LPG powered Aisle Master forklift trucks are available with lift capacities of 1.5t, 2t and 2.5t.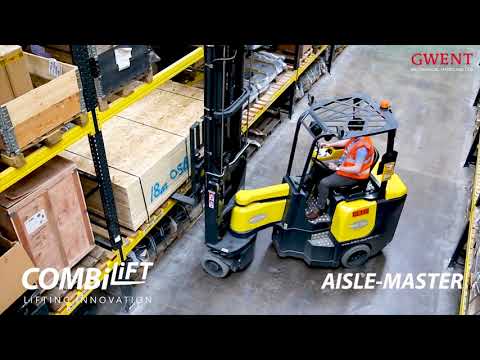 Aisle-Master Truck
The Aisle Master Narrow Aisle forklift is the lift truck that does it all. Take a look at it in action here.
AC Electric Powered
The Aisle-Master electric models, which will be of particular interest for those industries which may operate a policy of not using engine powered vehicles, such as the food manufacturing and pharmaceutical sector.
Aisle-Master works with the best battery component suppliers in the business to ensure outstanding performance and extra long battery life for uninterrupted shifts.
LPG (Gas) Powered
The Aisle Masters LPG forklift is fitted with 3-way catalytic converters since day one, for virtually zero emissions. Other manufacturers are only now catching up with the advanced technology that Aisle Master embraced since it built its very first LPG powered truck. LPG power offers 24/7 operation with no loss of power and is ideal for indoor and outdoor operation.
We are the South Wales and Bristol Aisle Master main distributor and so for any enquiry, please contact us and speak with our experienced and knowledgeable team.